Not ready for the Schoolbus!
Monday, August 13, 2007
I can't believe it's around the corner already. My oldest will be taking the bus to school for the first time. My youngest will be arriving in November. My 3 year old will be off to Pre K.
We enjoyed a wonderful trip that brought us half way across the country and back. I managed a few gigs while on the road and had wonderful receptive audiences that were up and dancing around in no time.
Hope you all are having a wonderful summer! Get out and enjoy as much as you can!

Brian

Ahhhhhhh it's back!
Thursday, May 17, 2007
Yes! The sun has finally returned! the leaves are out and the cherry tree is in bloom. It seems like it will never happen again, then in an instant, all is well!
Open up the windows and let all the good air in!
Big news around here! I'll be in the studio in June working on disc 2. I'm determined to not procrastinate any further! On the one hand it's given me a chance to learn some fun new stuff! Check out Great Harvest or Zumie's and ask me for one.
Be good, see you soon! Brian

Mid Winter Craziness!
Tuesday, February 13, 2007
First off, the big news is you can go to Itunes, search for "doser" and up pops my CD!!! I am so excited to be part of it and hope it spreads the word out of New England!

As for the happenings here locally, we are marching into February and the shows have been packed lately! Thanks to everyone who has been making the effort lately. It's such fun to see all those happy faces throughout the week!

I have been starting the recording process for the next album. Please feel free to email me any song suggestions (to brian@briandoser.com). I love learning new material and should be debuting a few my son Tim suggested soon.

Thanks again for your support!

Brian


Happy Holidays!
Sunday, December 24, 2006
I hope everyone is having a safe Holiday Season! Thanks to the wonderful people who booked me to play at their gatherings this year!

Here's to a safe a joyous New Year!

Brian
Holiday Times are Here!
Thursday, December 14, 2006
Ho ho ho and let's play dreidel! Happy Holidays from our house to yours! We've been getting used to the 3 children tango for the last few months. If I've seemed more humorous since October it's been from lack of sleep mainly.

I hope everyone gets a chance to stop and enjoy this Holiday! I've been very fortunate to have booked many Birthday and Holiday parties this month and it will really help out n the home renovation fund!

Who knows what 2007 will bring? The second CD should be here before long, so look for news in the near future!

Be well,
Brian



October Comes in like a Storm!
Wednesday, October 4, 2006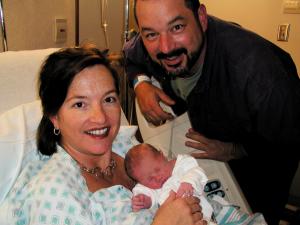 October is here and Jack Douglas came right away to celebrate! We are looking forward to an autumn of long walks and music playing for the baby.

*** Other important news****

The weekly Jimmy Tingle's gig is being post poned till January. Jimmy wanted to do things right so we agreed to give some more time for promotion and word spreading. Look for more news as it comes together.


Wow! What is going on??
Saturday, September 23, 2006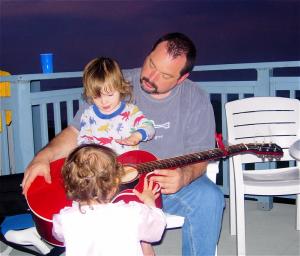 Crazy busy things in my life lately. Two great new additions coming in October. First, Kym and I will be welcoming boy number three to the family! I'll be hoping for a bass player as I think Tim and Noah will be the drummer and guitarist in the group.


Summertime!
Sunday, June 25, 2006
Hey! Just found out I'm going to be the featured artist for the month of July on the Playground, a Saturday and Sunday show on WERS 88.9 in Boston! I'll be playing live on the air too. Check the schedule on the main page for a posting on that!

And, go outside and play!
Zumi's and the Rain!!!!
Tuesday, May 23, 2006
What an incredible month we've had! The rain just keeps coming. My friends Umesh and Zillie at ZUMI's have had their basement flooded in the building. Hopefully we'll resume shows there in a few weeks. If you are a patron of the store check in and let them know you're thinking about them!
Happy May!
Monday, May 1, 2006
I have my first Cinco de Mayo Children's show coming up! Wahoo!
WERS FM (Boston) should now have my discs to play on the Playground show (Sat and Sun 5 to 8 pm) so call and request 617 578 8890. If you know of any other stations in your area playing children's music let me know!
Send in fun stuff!
Saturday, April 15, 2006
I was thinking as part of the new site design I would incorporate photos and artwork sent in from people on the mailing list. If you have anything send it along to brian@briandoser.com and I'll add it to the photo section. I have some things that I'll be scanning and putting in as well.
Hey, It's Spring!
Friday, April 14, 2006
Time for all things to blossom! The schedule has been packed with birthday parties and spring events.
Seems odd to have had our first dinner picnic outdoors already before May. Maybe it's a make up for the tremendous winters we've had in the last few years!