The Music Man!
Saturday, February 9, 2019
Welcome to the Music Man page!
I try to keep it updated as often as I can! My Facebook page is another great place to find out more immediate things like:

Is he going to be there in the snow?
Is he going to play on the Holiday?
Is Music Man at the Community House at 10 or 10:30? (It's 10!)
Will Music Man dress up for Halloween?

Facebook is: https://www.facebook.com/briandosermusic/

Feel free to drop me a note through the contact page! brian@briandoser.com

Thanks!!

Brian
Need music in your day!
Saturday, May 28, 2016
Summer begins and the daily routine changes! I will be at the Community House on Mondays and Thursdays at 10am throughout the summer!
If you need Music Man for any special events feel free to drop me a note at brian@briandoser.com
I play parties, gazebos, picnics, graduations; wherever you have the need!

I am also teaching beginner/intermediate guitar and ukulele on Tuesdays and Fridays! If interested drop me a note!

Be well!

Brian xoxo
Thank you!
Wednesday, December 23, 2015
2015 has been a wonderful year! Thank you so much for your support, both through your participation in Music Man shows and helping to spread the word to schools and rec programs, and for the cards and pictures and little ones with their guitars and big smiles!

I hope you have a wonderful Holiday and a safe and Happy New Year!!

Brian
Rocking in the Summer!
Monday, June 1, 2015
I hope your year is going well! I have been fortunate to have been very busy playing my weekly shows, as well as many brithday parties and special events! The Saturday morning show went over fairly well and will start up again after Labor Day!
I do love to play whenever I can. If you know of an event or a school/preschool where you think my show would go over well please spread the word! You can email me through the website!

Many exciting things to come this summer! Stay tuned!
Taking stock!
Saturday, August 3, 2013
Just a quick post to tell you all how much I appreciate the continued support! I have been at the Community House for over 5 years now and doing children's music for almost 10! The joy I feel each week entertaining your children is amazing! To see them come back for a visit and see how they've grown is so special! I hope the weeks of music and repetition and nice simple rythms will just add to their enjoyment of music in the future as they grow into more sohisticated things!
Keep playing the Beatles for them! It will never grow old!
Summer?
Wednesday, August 8, 2012
Oh my! Was this an incredible summer, or what? Thanks to everyone who came and supported me all summer! Music Man has been such a bright spot twice a week! Thank you for coming week after week and keepng it all going! The birthday parties and summer events have been so much fun! See you soon! Brian
Looking forward to the summer!
Tuesday, April 24, 2012
I've been traveling quite a bit this spring for freelance and music work and am so looking forward to catching up with family and household projects this summer. Thanks for your support as always, and if you have any brithday or other parties going on, keep me in mind! If it's a band you are looking for I also have the Puddin Pops available!
Puddin Pops Strike Again!
Friday, February 17, 2012
This spring the Puddin Pops will be once again headlining at the Hamilton Wenham Community House! We'll be playig favorites from Fats Domino to the Beatles to Bruno Mars! I have put together a great band of Steve Chaggaris on drums, Jeff Valade on keyboards, Jack Cavalier on bass and my friend Jon Svetkey joining me on vocals and guitars. Come on down in Feb 18th and March 24th!
Thank You!
Thursday, December 29, 2011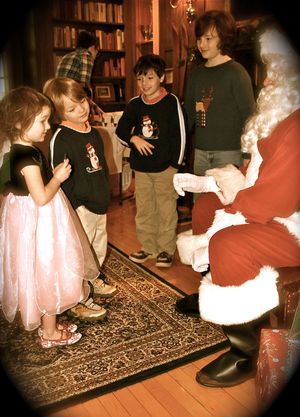 Thanks for the wonderful support throughout this year! The Music Man shows have continued to grow! It's been a year since we added the second day to the schedule and they both have their followings!
We premiered the Puddin Pops this past fall for the older children who have moved on past the ABC's! If you have a chance to catch one of the shows this spring you'll find yourself caught in a time warp between the Beatles and Bruno Mars!

My resolution is more music for you to download or buy on cd! I have been putting off the next round of songs for too long!
Happy 2012!
Brian , the Music Man!
The Puddin Pops!
Thursday, October 20, 2011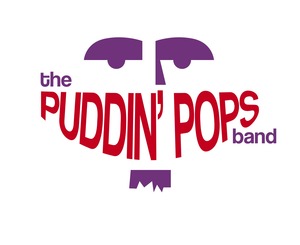 Our new band veture kicks off this Saturday the 22nd at the Community House, The Puddin Pops! We have a rocking line up of songs; Beatles, Bruno Mars, Train, Creedence Clearwater, oldies. Music for all ages done by dads! There will even be a mic set up for young "guests" to come up and sing along!
Come on down if you are free! It's a perfect hour to spend before Pumkin Fest at the Fire House!
Summertime is here!
Sunday, June 12, 2011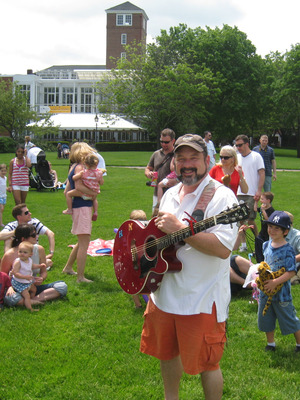 Can you believe it?
Thanks for all your fantastic support this past year!

I am planning on continuing my schedule throughout the summer at the HW Community House, but I need your help! I need you to spread the word to friends and family about how much fun Monday and Thursday mornings are at the Music Man shows! Any help would be great, Facebook, websites, reviews, local newspapers. I'd love to get my music out to as many children as I can! The
Community House is air conditioned in the summer and makes the perfect starting point for a day at Patton Park. See you soon! Brian
Spring?
Sunday, April 17, 2011
Is spring here finally? Make it a perfect Monday or Thursday by stopping by the Community House on the way to Patton Park!