"Falling" into a new schedule!
Monday, September 28, 2009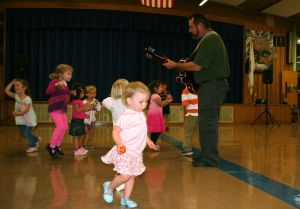 Hope everyone is doing well! I have noticed a change in the groups as the older ones are off to pre K and Kindergarden this month. Please drop me a note or send a pic every now and then so I can see how the little ones have grown!
Mondays are back at Zumi's at 4pm, where we will follow a school schedule and observe school holidays by staying home and having fun!
The Community House is now on Thursdays at 10:30 am till the New Year! It seems to be growing quite a bit in attendance so come join the fun!
Thanks everyone for your continued support! These times are tough, and I appreciate all the generousity shown at the gigs. My income is solely from music and music instruction these days and all the help goes directly to the family budget.
As always, I would rather see the faces of you and your children enjoying the music, so come along and have some fun!

Check out the link below for some great shots of the Teddy Bear Picnic we did in August!